favourite on tv/movie:
If you haven't been part of the greatest thing to happen this year, stop whatever you're doing right now because Downton Abbey is back on TV. Two glorious episodes have already been aired and I have cried about five times (four times the first episode, once during the second so I'm definitely improving). Also New Girl, How I Met Your Mother, The Great British Bake-Off and (soon) Homeland are back. Oh Autumn TV, I love you so.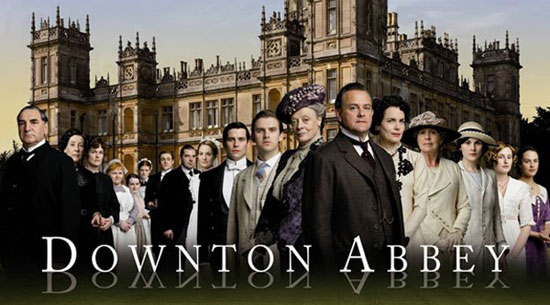 Image found here.
favourite purchase:
I dare say that I haven't actually bought a single thing this month. How depressing. (When I get my first full pay there will be some serious shopping.)
favourite music:
I managed to give myself a small addiction to Arctic Monkey's new album which is causing people to hate me. But it's just so very catchy that I'm willing to lose my friends and boyfriend.
favourite food:
This month I've been on a baking spree. Let me rate these from 1 to 10; lemon drizzle muffins 1, chocolate chip cookies 9 (I really love cookies), baked cheesecake 7 and apple pie 3. The fact that my first ever baked cheesecake got that close to my beloved cookies is definitely insane and proof that it turned out well.
favourite drink:
I haven't had any particular sensational drinks this month. Coffee is still going strong during the days, I ventured into the hot chocolate world one or two cold evenings and I had some caramel syrup in my latte during a coffee date with friends (which is far too sweet). I need something new in my life.
favourite beauty item:
My friend gave me a sample of her
Steamcream
and I have completely fallen in love with it. Ever since I got it I've been using it every single night and now I'm almost out of my sample. It also has this amazing smell which reminds me of the Lush hand creams. (What is that smell? It makes me think of vegan topknot-bearing hipster girls but that's obviously not what it's made of.)
favourite blog:
A Beautiful Mess
has been one of my favourite blogs for a
really
long time but it really steps it up during these months of the year. I'd recommend anything to do with fashion, food and home decor. Okay, so basically the entire blog.
favourite event:
There has been a bunch of smaller, lovely events such as my weekly tea and cake nights but one main event that I really enjoyed is getting my hair cut. Going from hair that reached halfway down my chest to a shaggy pixie cut was one of my more dramatic hair changes but luckily I love the new look.