It took me about two and a half weeks to finish this beast of a book (with a short break to read Gung Ho! in the middle) and although I struggled to get into it during the first third of the book (which seems to be a common theme with me and the A Song of Ice and Fire series) I then got hooked again.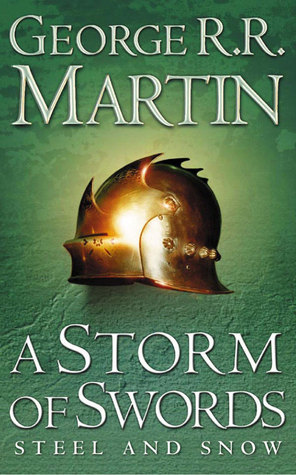 If you watched the third and fourth season of Game of Thrones on TV and thought "This is far too bloody and gruesome for me" then I would not recommend the third novel because somehow the TV show pales in comparison. The battles are more brutal, the deaths are more brutal and the sex... is also more brutal. There's a theme here, people. If the
last book
scattered the characters to different parts of the realm, this story has brought them back together, in new combinations with unpredictable consequences that follow.
This has so far been my favourite book in the series and despite the fact that I knew of some of the biggest events I still found myself just as gripped by the events (and yes, I have spent numerous train rides to/from work, bawling my eyes out. You know which events I'm talking about.) On top of that, there were events that I was not expecting and I feel
the need
to read the fourth book
right now
. Stay tuned and we'll see how long I can restrain myself.