Guuuuyyys.... I'm not sure where to start with this book. I can't believe that I haven't heard about it until after reading
The Goldfinch
earlier this year. If you haven't already figured it out, this is another review of a Donna Tartt book.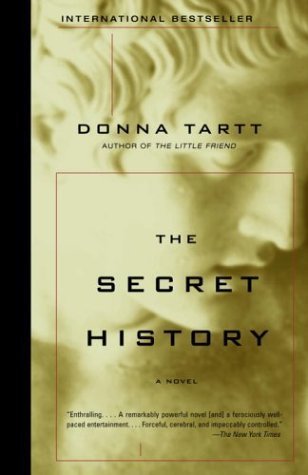 The Secret History follows Richard, a Californian who feels suffocated by his family and decides to study at a college in New England to escape his current surroundings. When he gets accepted into the highly eccentric Greek class, at first he feels alienated from the other five students who are brilliant, arrogant and wealthy but they soon become his closest friends. However, the others have a secret and when Richard finds out about it he realises that it he is unavoidably part of it too...
The story is presumably set at some point in the late 80s when the book was released, but in almost all aspects it feels timeless, possibly because of the dreamy feel through-out the book. I am well aware that it won't be everyone's cup of tea - some may feel like it is a pretentious novel, written so that the author can show off her obscure knowledge. Personally, I love that. And the characters
are
pretentious, in an obvious and humorous way. They spend all their time drinking scotch or wine and discussing ancient Greek phenomena. Of course they are supposed to be pretentious. However, what gets to me is the beautiful way that it's written and how the characters were so easy to like, yet they also scared me. It's a wonderful and simultaneously haunting story to read. One of my best reads this year, without a doubt.